Welcome to Knee High Mini Aussies!

We are a small, independent breeder of Miniature Australian Shepherds located in Weare, New Hampshire. Our objective is to make a positive contribution to the breed, raising high quality pet, show and breeding prospects. We are dedicated to maintaining the quality and integrity of the standard Australian Shepherd in a smaller package. Each of our dogs have been carefully selected based on their adherence to the traits defined by the breed standard, as well as their contribution to our breeding program.

Our dogs are more than our pets, they are family members. They have all been raised in our home, and they go everywhere with us. We participate in obedience, agility, and Rally classes, ensuring our dogs are well-rounded and versatile. We have included a wide variety of pictures of all of our dogs on this site to promote their activities and accomplishments. We hope you enjoy learning more about our dogs and our breeding program.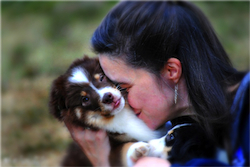 Thank you for visiting our site!
All About Minis...
Answers to Frequently Asked Questions

| | |
| --- | --- |
| | We love answering questions about our favorite breed! Some of the most common questions we hear are listed and answered below. As always, we are happy to answer any additional questions via phone, e-mail or facebook! |

What is a Miniature American Shepherd?

The Miniature Australian Shepherd is now officially known as the Miniature American Shepherd! However, the nickname Mini Aussie is still commonly used to describe the breed. As of June 27, 2012, minis were accepted into the American Kennel Club Miscellaneous class. The American Kennel Club (AKC), together with the United States Australian Shepherd Association (USASA) and the North American Miniature Australian Shepherd Club of the USA (NAMASCUSA) agreed to split the Australian Shepherd into two separate breeds. In addition to the standard Australian Shepherd, the smaller version of the breed is now recognized as the Miniature American Shepherd. NAMASCUSA is the parent club shepherding the breed into the AKC, and they also have a new name, the Miniature American Shepherd Club of the USA (MASCUSA). We at Knee High are very supportive of this change in the breed status, as our dogs are now eligible to compete in all AKC events, including agility, obedience, herding, tracking, and conformation!


How tall are adult minis?

The adult mini can vary in size from 13 inches to 18 inches, and they generally weigh between 20 and 40 pounds. We tend to breed small to medium sized dogs (13-16 inches), although we do currently have a few larger dogs in our breeding program.


Is a mini the right breed for me?

We think Miniature American Shepherds are extremely versatile dogs. They excel in sporting events such as agility, obedience, disc dog, herding, fly ball, and rally. They are highly intelligent and eager to please, and they genuinely enjoy working and learning new things. We have bred puppies that have gone on the participate in agility, obedience, rally, tracking, herding, and even therapy.

Minis also make fabulous family members with very loving, unique, BIG personalities. They are often described as perpetual puppies, and they are highly interactive and entertaining. There will never be a dull moment with a mini in the house! They are also very loyal dogs, making fantastic teammates and companions.

We always recommend early training and socialization for minis, as many herding breeds tend to be reserved with strangers, and may be inclined to guard the home or family members. However, minis are usually quick to warm up once the stranger is accepted by his people. Some minis may also exhibit herding behaviors toward small children or pets, and early training can assist in discouraging this behavior.


Do minis do well in apartments?

Miniature American Shepherds are able to thrive in a variety of living situations. We have placed dogs in a variety of homes: on farms, in apartments, with quiet couples, in active family households, in competition homes, in homes with multiple pets, or as only dogs. They have all been happy and well adjusted. They are truly versatile dogs!